updated on 13 July 2018
09 March 2017
Written by MY Consulting Support
Ginza is one of the most intriguing areas in Tokyo.
You will wish you had some more time when walking around the streets of Ginza, for being attracted by international brand stores, major department stores and traditional Japanese shops. Not only its fame as the key shopping district, it is also well known for its nightlife which includes high-class restaurants and bars, luxury lounges and elegant nightclubs…and of course, SUSHI bars are no exception.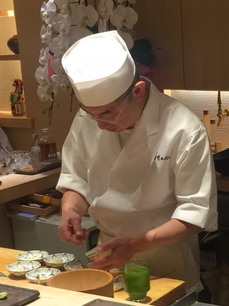 Walking along the main avenue and passing though neon lights, you will find "GINZA YANAGI SUSHI the third" secretly standing at the back street.
Have you ever visited a sushi restaurant, which has a menu with no price written on it?
Japanese people often prefer to order "OMAKASE" which literary means "chef's choices", especially in a long-established Sushi restaurant, and "GINZA YANAGI SUSHI the third" is one of those where customers leave all the choices of foods they eat to the Chef.
Ordering without knowing its price in Sushi restaurants is generally a bit scary because of the current price of fishes, so it would be even more so for visitors from different countries. However, in this restaurant, customers start with telling the Chef the budget when making reservation on the phone. After having few conversations, Chef MASANO will then arrange the menu within the budget. It will be good to start negotiating with 10,000 yen per person. If he says OK, then you will be able to taste the sushi which you have never experienced before!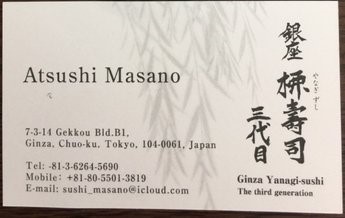 If you have plenty of money prepared for traveling to Japan and want to experience the "real" sushi culture, we recommend you to try, though it would be challenging as you definitely need a help from someone who can speak Japabese, but it is surely worth visiting.
The counter which you can see immediately after opening the door of the restaurant is made of one wide sheet of boards and it was quite hard, according to Chef MASANO, to carry it to the basement without cutting it. "An essential condition of a good sushi bar is that there is no boundary between the chef and the guests", Chef says. Guests are close to the chef over the counter so that they can see how and what kind of fish he is cooking and have a conversation.
For that reason, there are only 9 counter seats facing the Chef, no table seats at all.
Chef MASANO has a strong faith in serving SUSHI which may give you a glimpse of one aspect of Japan's rich and varied food culture. It would make a big difference in the taste of SUSHI whether or not you know it!
Here are Chef MASANO's beliefs:
・"Sushi craftsmen" must be a person who deserve credit and trust.
    Eating sushi by hand without using chopsticks is because there is a relationship of trust between
    the chef and the guests.
· Chef offers customers only what he thinks delicious.
· Chef serves only fresh fishes to make sure customers always eat the most delicious ones.
· Chef gives priority to the regular customers.
· Chef welcomes customers who can keep these rules